About The Authors


Stephen L. Sepinuck
Associate Dean for Administration and Professor of Law. Gonzaga University School of Law
» read more



John F. Hilson
Adjunct Faculty. UCLA School of Law
» read more


From The Casebook

Public Resources

Professor Resources

Contact Information
Stephen L. Sepinuck and John F. Hilson's
Transactional Skills: How to Structure and Document a Deal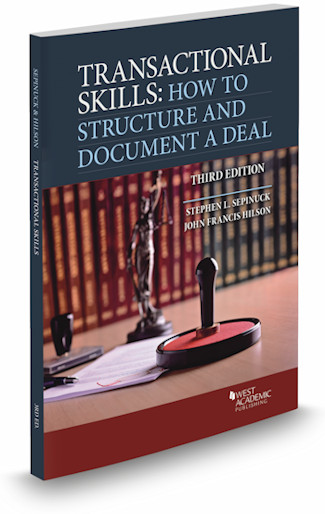 This book is an instructional tool designed to train law students and junior associates in the skills needed for successful transactional lawyering. Through carefully designed problems and exercises ‒ more than 80, which become progressively more challenging by subject ‒ the first part of the book helps students and associates understand and strategically use the different types of contract terms, translate deal terms to precise contract language, use forms appropriately, and spot and resolve ambiguity. They also practice deal design, conduct due diligence, and negotiate contract language.

The second part of the book consists of four simulated commercial transactions, each of which consists of several parts. In each simulation, the book users further develop their transactional lawyering skills by structuring, negotiating, and documenting a deal on behalf of a one of the parties to the transaction.

All of the problems, exercises, and simulations require active engagement followed by review and assessment by an experienced individual. Consequently, the book is accompanied by an extensive teacher's manual that includes a detailed response to each problem and guidance on teaching each of the simulations.

The book is a collaboration and joint publication of West Academic, the ABA Business Law Section, and the American College of Commercial Finance Lawyers. Law School faculty interested in obtaining either a review copy of the book or a print copy of the Teacher's Manual should either click on the link to the left or contact a West Academic Publishing Accounts Manager at either (800) 313-9378 or accountmanager@westacademic.com.